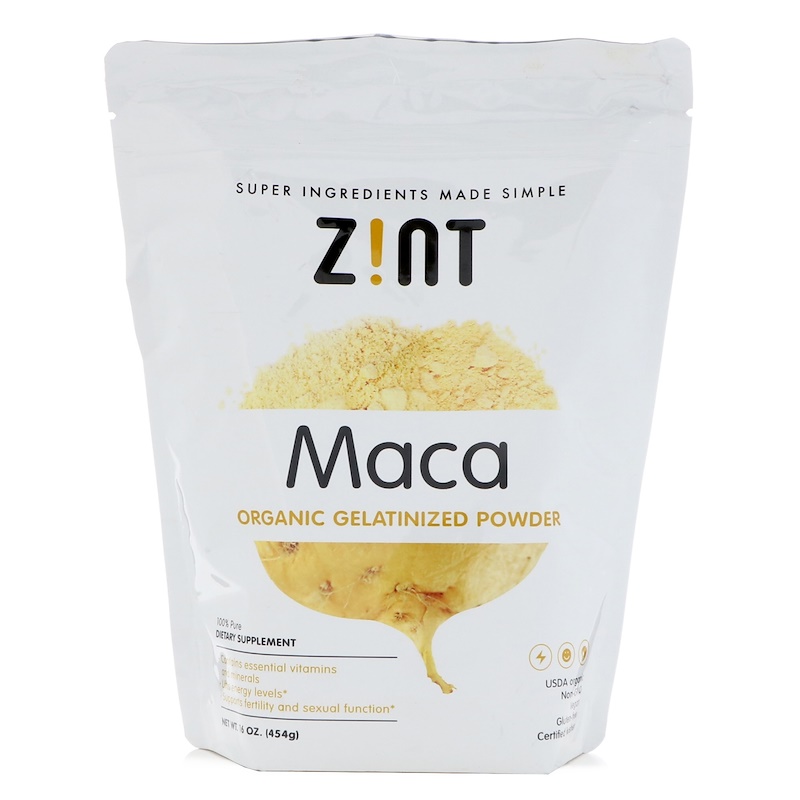 Description
Super Ingredients Made Simple
100% Pure
Dietary Supplement
Contains Essential Vitamins and Minerals
Lifts Energy Levels
Supports Fertility and Sexual Function
USDA Organic
Non-GMO Project Verified
Vegan
Gluten-Free Verified
Certified Kosher
The Power of Maca!
Maca root is an herbaceous plant native to the high Andean mountains of Bolivia and Peru. It has been used for thousands of years as a whole food, offering many natural health benefits.
Maca is one of the world's most sought-after adaptogenic superfoods, bolstering the body's ability to adapt to life's physical and emotional stressors. When taken daily, maca supports hormonal balance, boosts energy levels, increases stamina and supports a healthy immune system. It has also been shown to support healthy fertility and sexual function for both men and women.
Zint Gelatinized Maca Powder is minimally processed, slow-dried and milled gently at low temperatures to preserve maca's amazing health benefits in their purest form. We take pride in sourcing our maca from family-owned farms in the Andes mountains of Peru. Our suppliers harvest and sell their produce in accordance with global fair trade values. Our gelatinizing process removes all starch to concentrate the maca root's nutrients and make it easy to digest. Subtle, complex and smoky in flavor, our maca powder is the perfect addition to your favorite drinks, snacks and recipes.
Contains essential vitamins and minerals.
Lifts energy levels.
Supports fertility and sexual function.
Suggested Use
Stir it into coffees, teas and smoothies for added sweetness and complexity. Sprinkle it onto yogurt, ice cream or your favorite dessert. Add to cereals, salad dressings and soups
Other Ingredients
Gelatinized maca powder.
Allergen information: This product is free of all common allergens, including wheat, gluten, dairy, peanut, tree nut and soy.
Warnings
Storage: Store in a cool, dry place. Keep away from direct sunlight.
Do not refrigerate.