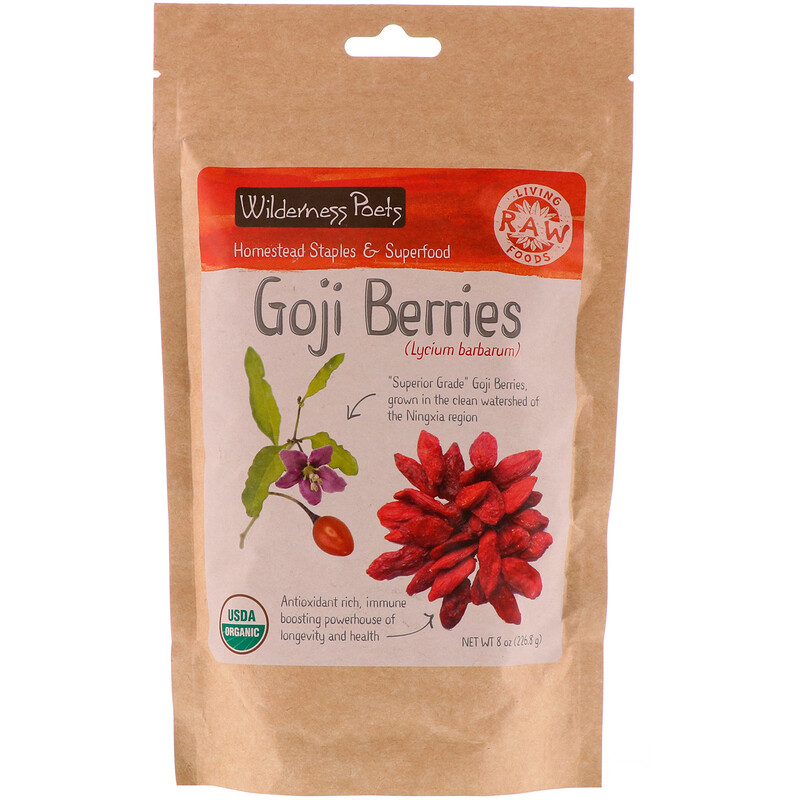 Description
Homestead Staples & Superfood
Lycium Barbarum
USDA Organic
Certified Organic by Organic Certifiers
Non-GMO
Gluten Free
Raw
Vegan
No Added Sugar or Salt
"Superior Grade" Goji Berries, grown in the clean watershed of the Ningxia region.
Antioxidant rich, immune boosting powerhouse of longevity and health.
Wilderness Poets Goji Berries are bursting with flavor! With subtle vanilla notes and a hint of smokiness, these gems have been used medicinally for over 5,000 years by herbalists in China, Tibet, and India. They can be blended directly into smoothies, juices, elixirs, oatmeal, and raw desserts. Goji Berries are wonderful soaked in herbal tea, as they balance the bitterness of medicinal herbs and synergize deep flavors.
Goji Berries are known to balance blood sugar, enhance eyesight, increase stamina, boost the immune system, cardiovascular health, and promote longevity.
Other Ingredients
Organic, raw goji berries.
Made in a facility that processes various tree nuts.
Warnings
Store in a cool dry place. Enjoy!
This product contain a chemical known to the State of California to cause cancer, or birth defects or other reproductive harm.