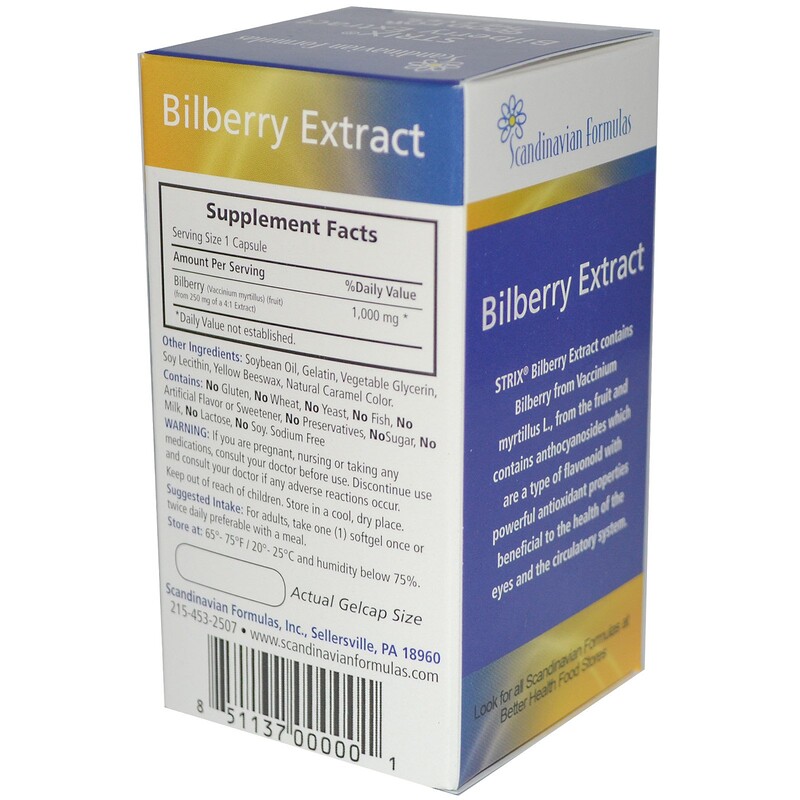 Description
Good for The Eyes
New Formula!
Dietary Supplement
Numerous studies have been conducted to identify the pharmacological activities of anthocyanosides from Vaccinium myrtillus berries and to assess their clinical efficacy. Pharmacological studies have shown bilberries to be effective in increasing capillary resistance, reducing abnormal vascular permeability and performing antioxidant activity at the vascular level. There is clinical evidence that the intake of bilberry extract is useful for the recovery of visual acuity and relief of eye fatigue symptoms in case of eye overuse.
Bilberry Extract
Strix Bilberry Extract contains Bilberry from Vaccinium myrtillus L., from the fruit and contains anthocyanosides which are a type of flavonoid with powerful antioxidant properties beneficial to the health of the eyes and the circulatory system.
Suggested Use
For adults, take one (1) softgel once or twice daily preferable with a meal.
Other Ingredients
Soybean oil, gelatin, vegetable glycerin, soy lecithin, yellow beeswax, natural caramel color.
Contains no gluten, no wheat, no yeast, no fish, no artificial flavor or sweetener, no preservatives, no sugar, no milk, no lactose, no soy. Sodium free
Warnings
If you are pregnant, nursing or taking any medications, consult your doctor before use. Discontinue use and consult your doctor if any adverse reactions occur.
Keep out of reach of children. Store in a cool, dry place.
Store at: 65º-75ºF / 20º-25ºC and humidity below 75%.