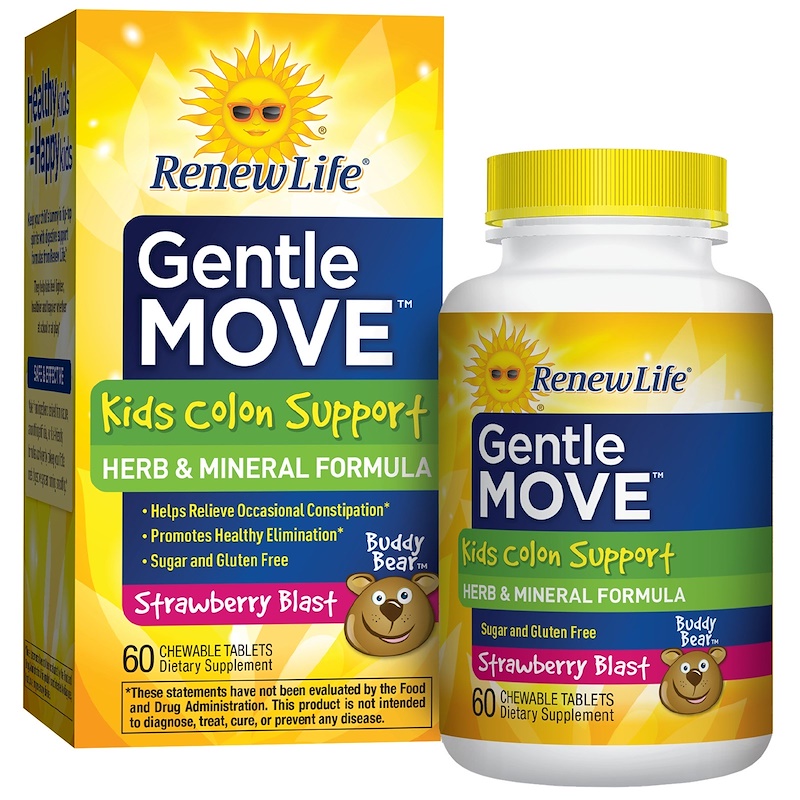 Description
Herb & Mineral Formula
Helps Relieve Occasional Constipation
Promotes Healthy Elimination
Sugar and Gluten Free
Buddy Bear
Dietary Supplement
Dairy Free
Soy Free
No Artificial Ingredients
Digestive Wellness, Naturally
At Renew Life, we believe a healthy gut is a happy gut.
For nearly two decades, we have pioneered superior-quality digestive care supplements to help adults and kids alike achieve optimal health from the inside out.
Bowel Support for Kids
Gentle Move Kids Colon Support is a delicious, chewable digestive formula made with magnesium, prune and fig, rhubarb root, peach fruit, and other healthy ingredients to promote healthy elimination and help restore regularity. Each tablet is filled with natural Strawberry Blast Flavor, but no artificial ingredients.
Healthy Kids = Happy Kids
Keep your child's tummy in tip-top spirits with digestive support formulas from Renew Life.
They help kids feel lighter, healthier, and happier whether at school or at play.
Safe & Effective
Made from ingredients derived from nature, and nothing artificial, our kid-friendly formulas work gently to keep your little one's digestive system running smoothly.
Suggested Use
Children over 4 years of age, chew one or two bear tablets in the evening. Children between 2 and 4 years of age, chew one bear tablet in the evening.
Other Ingredients
Xylitol, stearic acid, natural flavors (strawberry, mango, cherry), citric acid, beet juice, malic acid, silica, and monk fruit.
Manufactured in USA in a GMP facility.
Warnings
Store in a dry place at 59-86ºF (15-30ºC).
Keep out of reach of children.
Consult your healthcare professional before using this or any product if your child is taking medication or has a medical condition.
This product contains rhubarb.
Do not use if your child has or develops abdominal pain, diarrhea, or loose stools. Read and follow directions carefully.