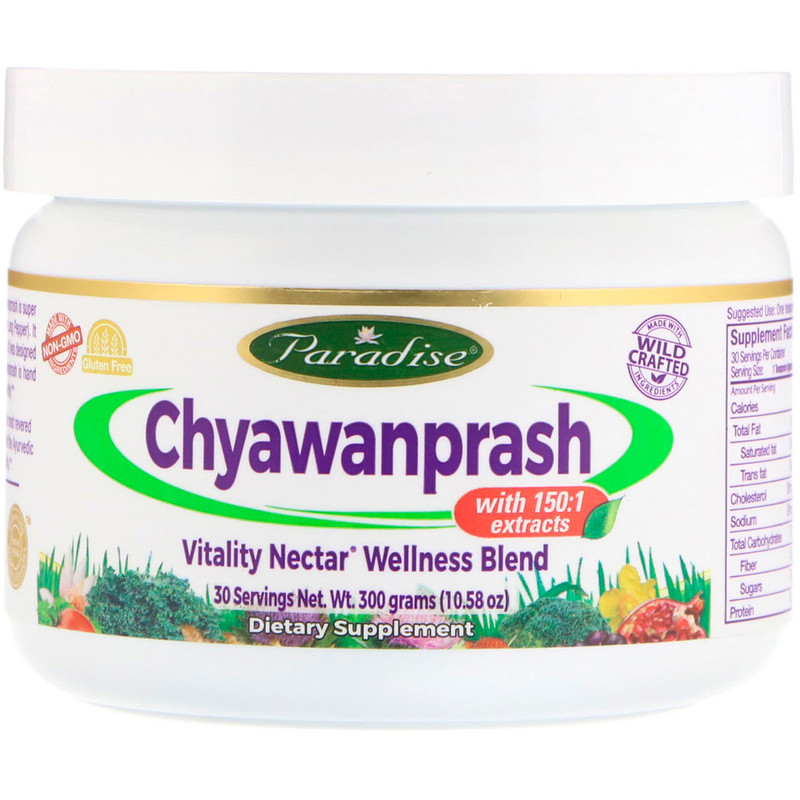 Description
Made with Non-GMO Ingredients
Gluten Free
Made with Wild Crafted Ingredients
With 150:1 Extracts
30 Servings
Dietary Supplement
Enhancing Nature's Miracles Since 1994
Paradise Chyawanprash (Vitality Nectar) is not just your ordinary Chyawanprash. Our Chyawanprash is super infused with extremely powerful extracts of Certified Amla, Ashwagandha and Pippali (Indian Long Pepper). It is formulated with an extra emphasis on using pure ethically wild crafted and clean ingredients. It was designed for year round use and has a balancing and tonifying affect for any constitution. Our Chyawanprash is hand made with the freshest Amla and prepared in the traditional way for maximum therapeutic activity.
Over thousands of years of wisdom have come to pass in carefully preparing and combining the most revered Ayurvedic herbs in the world to make up Chyawanprash. It is the most widely consumed of all of the Ayurvedic formulas and has been traditionally used for supporting daily energy, wellness and overall vitality.
Suggested Use
One teaspoon daily or as directed by your qualified healthcare practitioner.
Other Ingredients
Jaggery (saccharum officinarum), clarified butter (ghee), raw honey, cold pressed black sesame oil. Made without fillers or binders. Contains no wheat, corn, soy, yeast, preservatives, or artificial ingredients.
Suitable for vegetarians, non-gmo and naturally gluten free.
Warnings
This product is sold by weight not volume. Keep in a cool dry place, out of the reach of children. If you are pregnant, nursing, taking any medication or have a medical condition, please consult your healthcare practitioner before taking any dietary supplement.