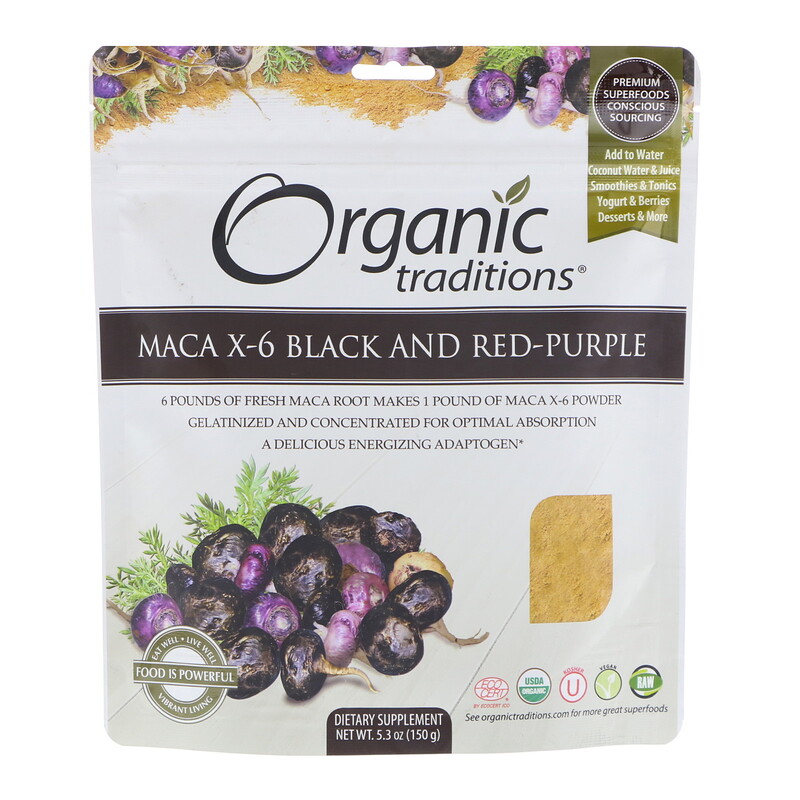 Description
Premium Superfoods Conscious Sourcing
Add to Water & Juice, Smoothies & Tonics, Yogurt & Berries, Desserts & More
6 Pounds of Fresh Maca Root Makes 1 Pound of Maca X-6 Powder
Gelatinized and Concentrated for Optimal Absorption
A Delicious Energizing Adaptogen
Food is Powerful
Eat Well • Live Well
Vibrant Living
Dietary Supplement
Eco Cert
USDA Organic
Kosher
Vegan
Raw
Resealable
SuperFoods
Lepidium Meyenii
Certified Organic by: Ecocert ICO
Maca X-6 Blackand Red-Purple
Commonly known as "The Peruvian Ginseng," Maca is a root vegetable indigenous to the Andes of Peru. Maca was domesticated by the Incas and has since been used by indigenous people as part of a daily diet to promote optimal well being. While most Maca Powders simply offer dried and ground yellow Maca, Organic Traditions Black & Red-Purple Maca X-6 is a gelatinized concentration of 80% black, 15% red-purple and 5% yellow Maca. Six pounds of these three fresh maca root varieties are condensed into one pound of powder. Gelatinization removes the starch from the root leaving a more concentrated powder that is not only easier to absorb and digest, but that offers a greater concentration of powerful phytonutrients.
Organic Nutrition From Around The World
At Organic Traditions we provide nutrient dense superfoods from many healing traditions. We are committed to supporting farmers who are dedicated to the principles of sustainable and fair trade agriculture. Now more than ever we need to nourish ourselves with superfoods, herbs, seeds and fruits packed with the nutrition needed to support the challenges that come with living in a fast paced world. Be adventurous. These superfoods are versatile. Incorporate them into recipes in any creative way you see fit. At every meal you have the opportunity to choose dense nutrition. Food is powerful. Make choices for a better you and a better planet.
Suggested Use
Add Maca X-6 to water, coconut water, juice, smoothies, desserts, on top of yogurt or in any other recipe. Create a delicious Maca smoothie by blending 1-2 teaspoons of Maca X-6 with Organic Traditions Cacao Powder, Organic Traditions Sprouted Chia Powder, Organic Traditions Shredded Coconut, Organic Traditions Goji Berries, Organic Traditions Golden Berries, Organic Traditions Baobab Powder, Organic Traditions Vanilla Powder, Organic Traditions Yacon Nectar as a natural sweetener and any other Organic Traditions or Natural Traditions Superfoods with sufficient water (3-6 cups) to achieve the desired consistency.
Other Ingredients
Organic black maca, organic red-purple maca and organic yellow maca
Produced in a facility that processes tree nuts. May contain tree nuts.