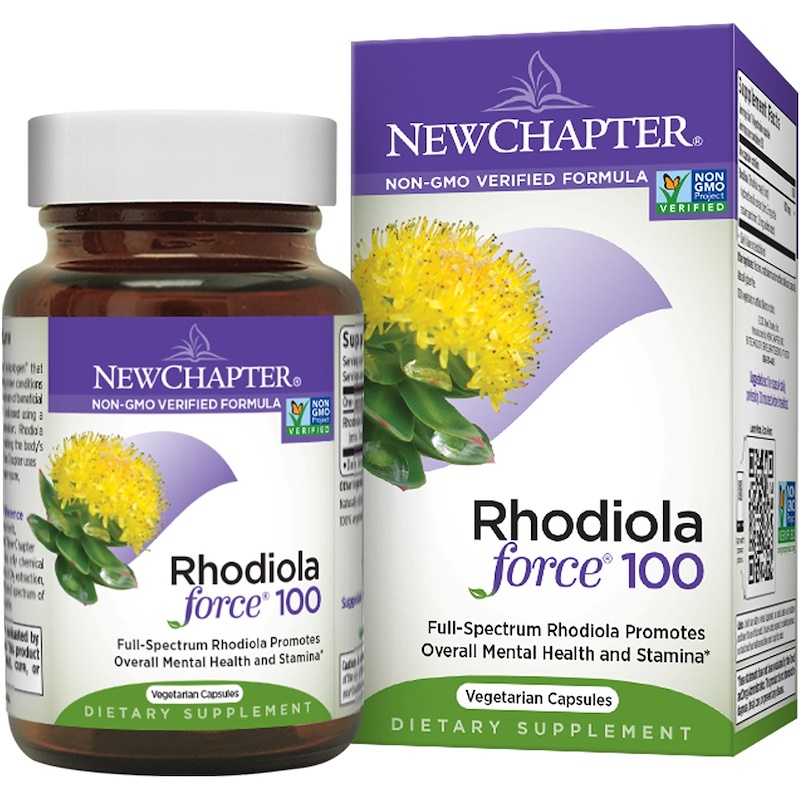 Description
Non-GMO Verified Formula
Non GMO Project Verified
Full-Spectrum Rhodiola Promotes
Overall Mental Health and Stamina
Dietary Supplement
Naturally Gluten Free
Holistic
Discover the force of the Whole
Full-Spectrum Force Extraction (Pure & Potent Extracts)
Whole Herb
Nature's Profile of Beneficial Compounds
Super-Pure, Super-Potent Extract
The New Chapter Herbal Supplement
Full-Spectrum Extraction: Our Difference
Many companies isolate elements from an herb, concentrate them, and label it "whole herb". New Chapter delivers the wisdom of whole food. Using only natural supercritical C02 or traditional techniques of extraction, our Force extract guarantee the fullest spectrum of beneficial phytonutrients in their natural profile.
Health
Stamina, Endurance, Well-Being- Rhodiola rosea is an exalted herbal stress "adaptogen" that supports stamina, endurance and well-being under conditions of exertion and sleep disruption.
Full-Spectrum Potency- The full spectrum of beneficial compounds found in Rhodiola Force 100 is delivered using a whole-food approach to herbal supplementation.
"Side Benefits"– Rhodiola modulates physiologic stress reactions by shifting the body's stress response, thereby uplifting mood.
Pure & Potent Extracts– Our full-spectrum process extracts precious plant compounds to preserve Nature's full complexity, delivering super-pure, super-potent herbal extracts.
Full-Spectrum Ration 8: 5: 1
850 mg oh Rhodiola = 1 Capsule
Suggested Use
One capsule daily, preferably 30 minutes before breakfast.
Other Ingredients
Ground rice hull and hypromellose (capsule).
Naturally gluten fee; 100% vegetarian; no artificial flavors or colors
Warnings
As with any dietary or herbal supplement, you should advise your healthcare practitioner of the use of this product. If you are nursing, pregnant, or considering pregnancy, you should consult your healthcare prior to using product this product.