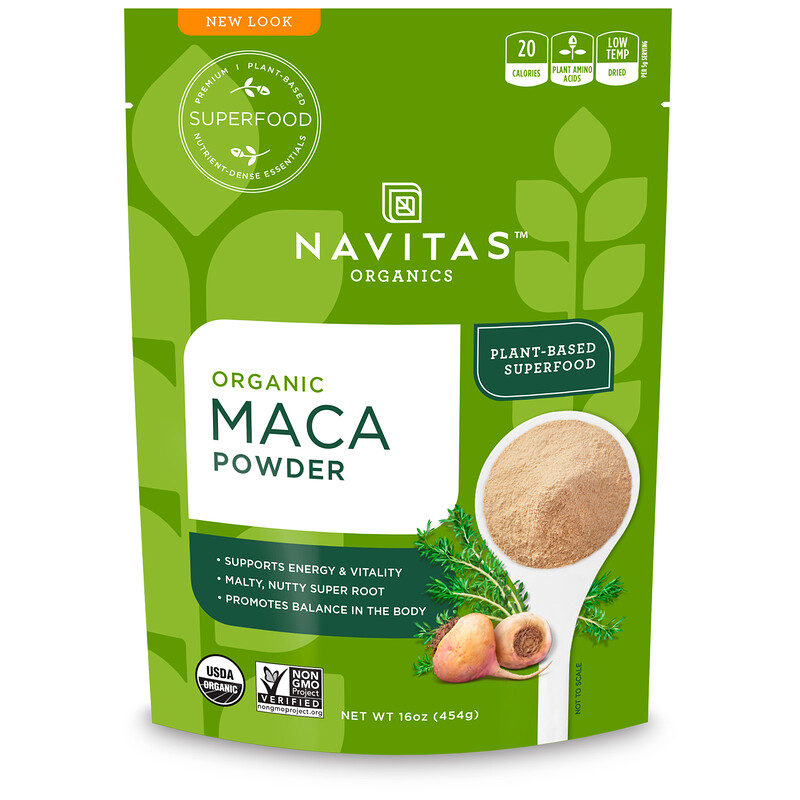 Description
Premium
Plant-Based Superfood
Nutrient-Dense Essentials
20 Calories / Plant Amino Acids / Low Temp Dried- Per 5 g Serving
Supports Energy & Vitality
Malty, Nutty Super Root
Promotes Balance in the Body
USDA Organic
Non-GMO Project Verified
Ancient Treasure
B Corporation Certified
Kosher
Gluten Free
Vegan
Certified Organic By Control Union Certifications
BPA Free
Positive Mind – Positive Vibes – Positive Life
Superfood Promise: Using the most health-boosting plants in the world, we promise our superfoods are organic, nutrient dense & handled with care at every step.
Maca: Inca Warriors Used For Endurance
Adaptogen: Combats Stress & Fatigue
Agricultural Wonder Grows in Extreme Conditions
Go after each day with passion and drive.
Super-simple, super-nutritious superfoods give you the energy you need to live each day to the fullest.
In fact, Navitas (Nuh-vee-tus) is Latin for 'energy'. We search the globe for the highest-quality organic superfoods to keep you energized. What's more, we work hard to power the positive in all we do as a company, celebrating healthy foods and supporting sustainable causes.
Navitas. Live Life Positive.
Suggested Use
1 serving per day.
Stir | Blend | Boost
Stir Into Yogurt
Blend Into Smoothies
Pair With Cacao
Other Ingredients
Certified organic maca powder (lepidium meyenii, walpers).
Warnings
This product contains a chemical know to the state of California to cause birth defects or other reproductive harm.
Storage Information: Refrigeration not required. Store in a cool, dark, dry place.