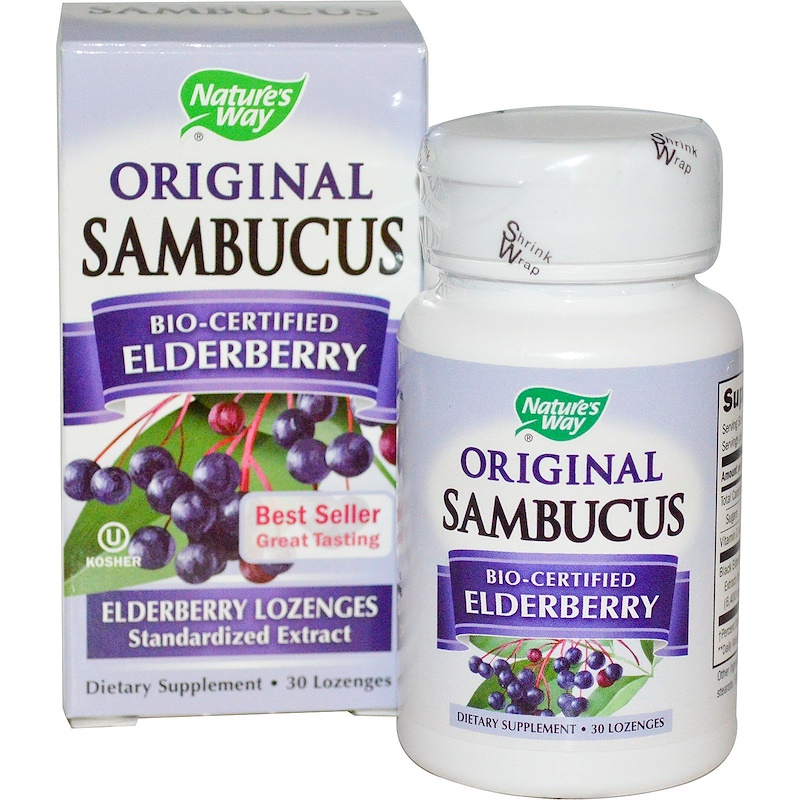 Description
Kosher
Best Seller
Great Tasting
Standardized Extract
Dietary Supplement
Natural Formula
Gluten-Free
Kosher Certified
No Artificial Preservatives
Delicious Taste
Natural Flavor
For Kids & Adults
Convenient Lozenge Form
About Black Elderberry
For centuries the dark berries of European black elder (Sambucus nigra L.) have been traditionally used as a winter remedy. In recent years, efficacy has been proven in clinical trials.
Standardized Extract
Nature's Way Original Sambucus lozenges contain a unique, full-spectrum, standardized black elderberry extract
Provides a guaranteed potency of flavonoid BioActives, including anthocyanins, in every dose
Gentle, solvent-free extraction method ensures maximum flavonoid potency
From Premium Elderberries
Made from a premium cultivar of black elderberries (Sambucus nigra L.)
Naturally richer in flavonoid BioActives
Backed by Research
Tested for effectiveness
Bio-Certified for bioavailability and activity within the body.
Suggested Use
Allow lozenge to dissolve slowly in the mouth.
For Daily Maintenance:
Adults: Take 1 lozenge 1-2 times daily.
Children: Take 1 lozenge daily.
For Intensive Use:
Adults: Take 2 lozenges twice daily.
Children: Take 1 lozenge twice daily.
Other Ingredients
Sucrose, fructose, magnesium stearate, silica, natural flavor.
Warnings
Tamper Evident: Safety sealed with printed outer shrinkband and printed inner seal. Do not use if either seal is broken or missing. Keep out of reach of children.