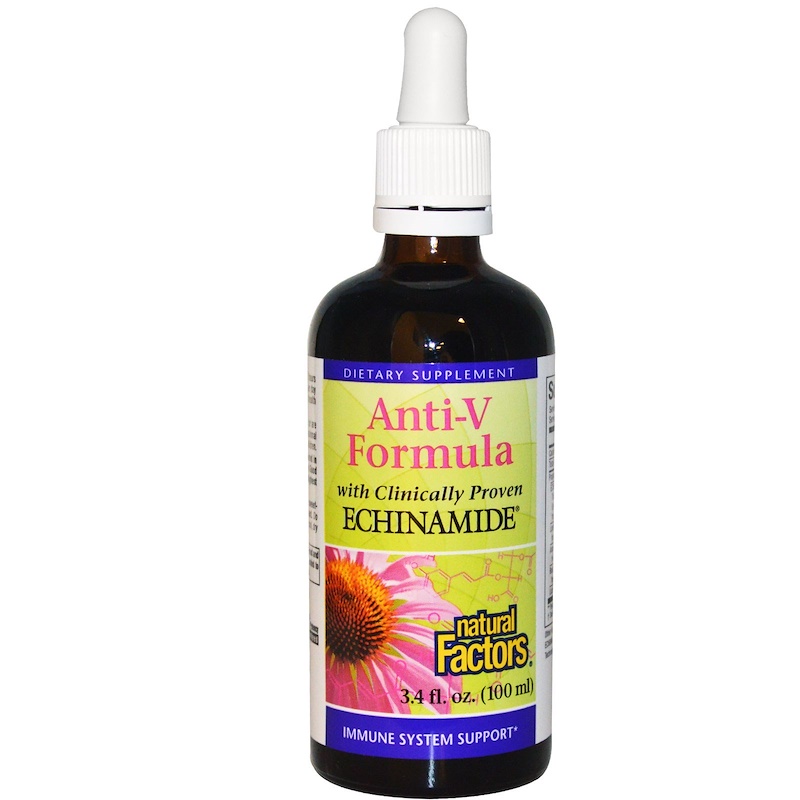 Description
Dietary Supplement
Immune System Support
Purity & Potency Guaranteed
Features
Anti-V is a potent herbal liquid blend from Natural Factors, also available in capsules. This potent herbal formula from Natural Factors, also available in capsules, is used to stop a cold, flu or other virus in its tracks. It also has anti-fungal and anti-bacterial properties to contribute to improved overall health and function. Anti-V Formula harnesses the power of nature by combining the best-researched and time-tested herbs to support your immune system functions. Anti-V features the power of Echinamide, a super-extracted Echinacea purpurea liquid with guaranteed high levels of alkylamides, polysaccharides and cichoric acid, the three key actives responsible for echinacea's effectiveness in clinical studies. Echinamide contains these actives in a base of the whole herb, Echinacea purpurea, because this species contains the highest levels of alkylamides, cichoric acid and polysaccharides. Organically grown in accordance with the California Organic Foods Act of 1990 and certified by the North Okanagan Organic Association (NOOA).
Suggested Use
3 droppers of 0.5 ml every 2-3 hours for acute needs or 3 droppers of 0.5 ml 2 times per day for regular immune support, or as directed by a health professional.
Other Ingredients
100% grain alcohol.
All Natural Factors products are manufactured in accordance with the Government of Canada's Good Manufacturing Practices (GMP), among the highest standards in the world.
Contains no artificial preservatives, color or sweeteners; no corn, dairy, soy, starch, wheat or yeast.
Warnings
Caution: If you have an autoimmune disorder, or are pregnant or lactating, consult a health professional before using this product. Keep out of reach of children.
Do not use if seal is broken. For freshness, store in a cool, dry place.