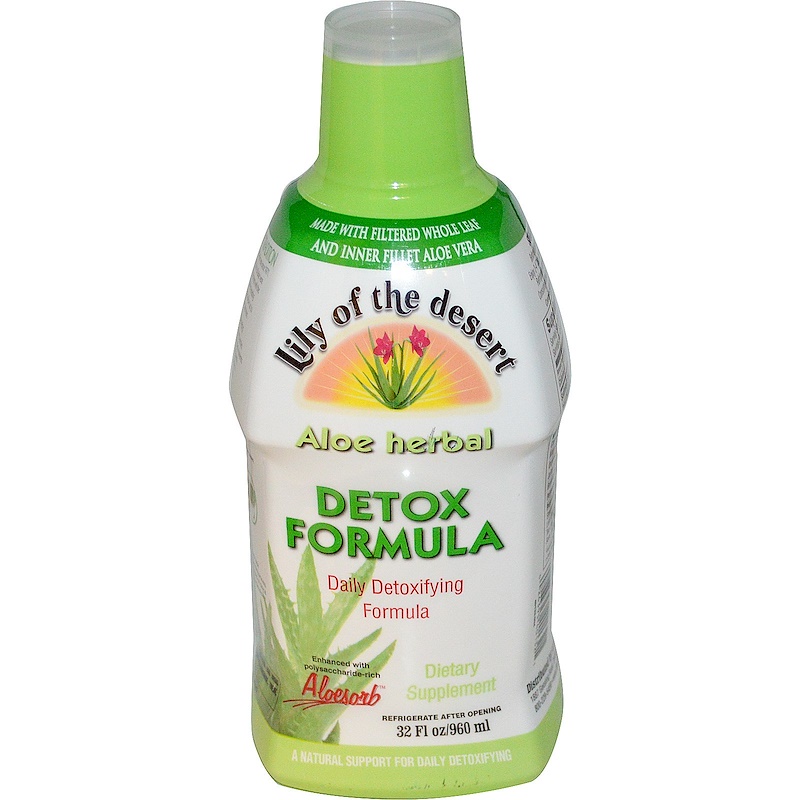 Description
Made With Filtered Whole Leaf and Inner Fillet Aloe Vera
Daily Detoxifying Formula
Enhanced With Polysaccharide-Rice Aloesorb
Dietary Supplement
A Natural Support for Daily Detoxifying
Clinically Proven to Reduce Cell Nitrate Level by 11%
Welcome To The Lily Tradition
Lily of the Desert has been a leading producer of aloe vera since 1971. As the largest grower, processor and distributor of aloe vera products, we work hard to provide our customers with purest aloe in the marketplace. Our market-leading innovations and patent-pending processes allow us to offer the best possible products for our customers.
Lily of the Desert Aloe Vera Benefits
Contains full range of valuable aloe polysaccharides
Clinically proven to increase absorption of other nutrients
Helps sustain and promote healthy regularity
Helps support a healthy digestive system
Helps maintain stomach pH balance
About Aloesorb
Aloesorb: naturally occurring high molecular weight aloe polysaccharides that have been isolated through a patent-pending process and infused back into our aloe juices. Lily has completed a series of clinical studies on our own aloe juice with Aloesorb and the studies show:
Improved absorption of nutrients
Supported healthy immune system
Enhanced antioxidant support
Reduced toxic nitrate levels
Lily of the Desert products with Aloesorb show an overall improvement in health benefits.
Aloesorb
High molecular-weight naturally occurring aloe polysaccharides that have been infused back into the product. Clinically proven to aid in improving absorption, support a healthy immune system and reducing toxic nitrate levels.
Burdock Root
Helps with occasional discomfort of the gastrointestinal tract and maintains healthy regularity.
Acacia Gum
Assists in the development of beneficial bacterias.
Milk Thistle
Supports a reduction of superoxide anion radicals and nitric acid in the liver, intestines and stomach.
Dandelion Leaf
Supports healthy liver, gallbladder and urinary tract function.
Slippery Elm Bark
Promotes further cleansing of waste from the colon.
Suggested Use
Before opening, shake bottle well. Enjoy 2-4 Tbsp. as needed up to 4 times daily. Refrigerate immediately after opening. Consume within 5-6 months after opening.
Other Ingredients
Natural flavor, xanthan gum, citric acid (pH stabilizer), less than 0.1% each sodium benzoate and potassium sorbate used as food grade preservatives.
Contains 80% organic ingredients.
Warnings
Refrigerate after opening
Important Consumer Notice:
This product is a natural product; therefore the color may change slightly due to seasonal variations without affecting purity, efficacy or quality.