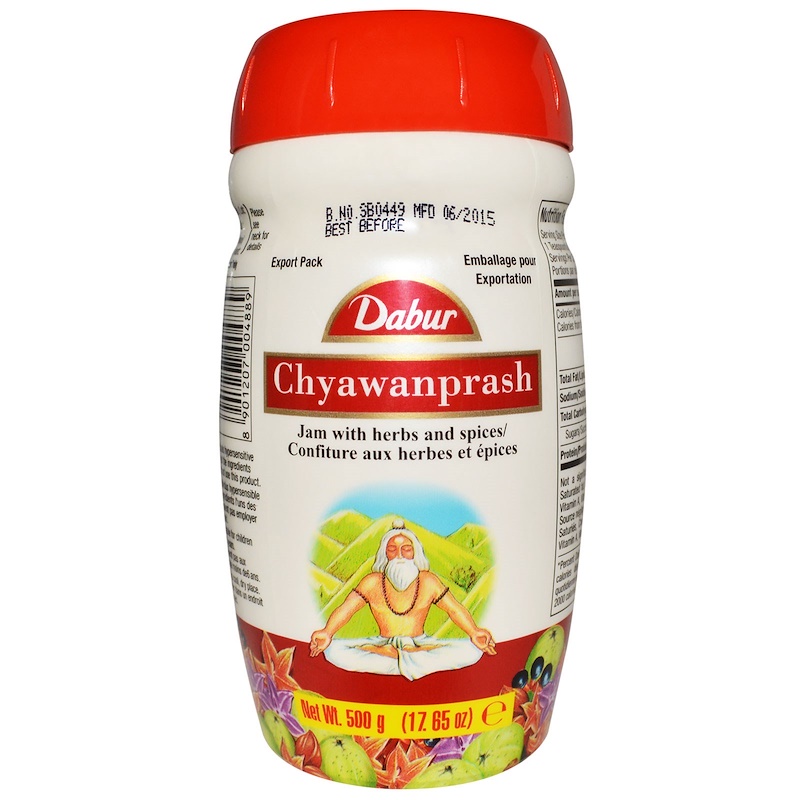 Description
Ayurvedic Herbal Gooseberry Paste
An Antioxidant-Rich Food
Export Pack
Jam with Herbs and Spices
Natural Fruit and Herbal Supplement
The main ingredient is Amla (Botanical name: Emblica Officinalis) also known as Indian Gooseberry or Chyawanprash. Amla Paste is a botanical concentrate of 43 natural ingredients including fruits and herbs, that are gently steeped and cooked together. It is made according to a 2,000 year old traditional recipe.
Suggested Use
Use 1 teaspoonful as a delicious bread spread or by itself.
Other Ingredients
Emblica officinalis (emblic myrobalan)-fruit, sugar, honey, clarified butter, sesamum indicum (sesame) oil, piper longum (long pepper) fruit, bambusa bambos (bamboo manna), elettaria cardamomum (cardamom)-seed, syzygium aromaticum (clove)-flower buds, mesua ferrea (cobras saffron)-stamen, cinnamomum tamala (leaf cinnamon)-leaf, cinnamomum zeylanicum (cinnamon)-stem bark, pueraria tuberosa (Indian kudju)-root tuber, dioscorea bulbifera (air potato)-root tuber, withania somnifera (winter cherry)-root, asparagus racemosus (asparagus)-root, aegle marmelos (bengal quince)-root, desmodium gangeticum (sal leaf bush)-root, gmelina arborea (cashmere tree)-root, oroxylum indicum (Indian trumpet flower)-root, premna integrifolia (headache tree)-root, solanum indicum (Indian nightshade)-root, solanum xanthocarpum (febrifuge plant)-root, stereospermum suaveolens (rose flower fragrant)-root, tribulus terrestris (small caltrops)-fruit, uraria picta (urara pitch)-root, sida cordifolia (country mallow)-plant, phaseolus trilobis (wild green gram)-plant, teramnus labialis (horse vine)-plant), pistacia integerrima (crab's claw)-galls, phyllanthus niruri (feather foll plant)-plant, leptadenia reticulata (cork swallow wort)-root, terminalia chebula (chebulic myobalan)-pericarp, tinospora cordifolia (heart-leaved moonseed)-stem, curcuma zedoaria (zedoary)-rhizome, cyperus rotundus (nut grass)-rhizome, boerhavia diffusa (spreading hogweed)-plant, nymphaea stellata (blue water lily)-flower, adhatoda vasica (malabar nut)-root, glycyrrhiza glabra (licorice)-root, maritima annua (ice plant)-fruit, vitis vinifera (raisins)-dry fruit), inula racemosa (Irish root)-root, santalum album (sandalwood)-heart wood, potassium sorbate-E202 (preservative)
Contains: sesame seeds.
Warnings
Individuals hypersensitive to any of the ingredients should not use this product.
Not suitable for children below 6 years.
Store in a cool, dry place.