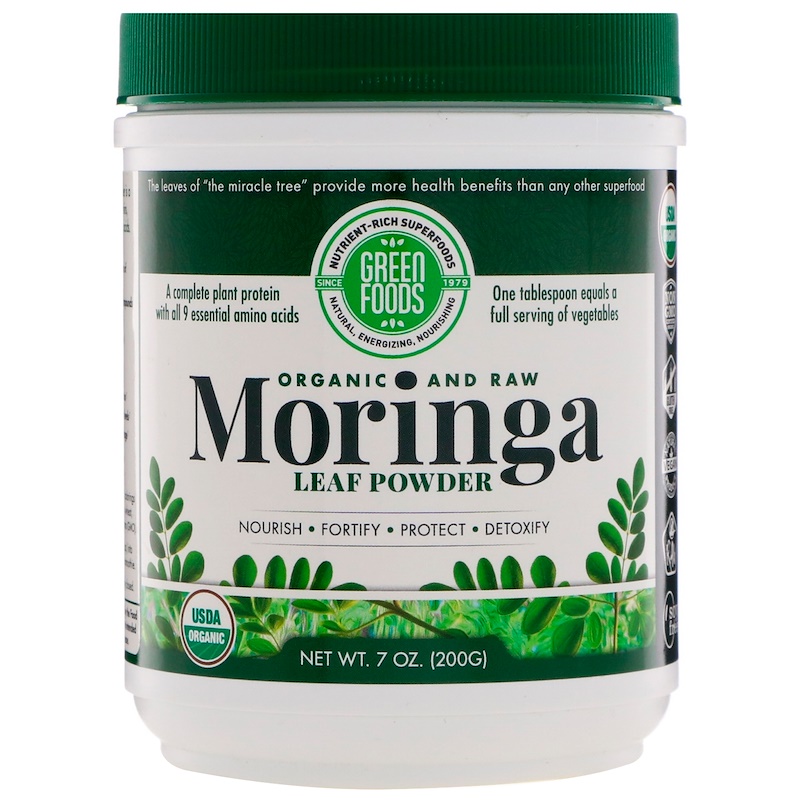 Description
The Leaves of "The Miracle Tree" Provide More Health Benefits Than Any Other Superfood.
A Complete Plant Protein with All 9 Essential Amino Acids
One Tablespoon Equals a Full Serving of Vegetables
Nutrient-Rich Superfoods
Since 1978
Natural, Energizing, Nourishing
Nourish – Fortify – Protect – Detoxify
USDA Organic
Non GMO
Gluten Free
Natural Vegan Product
Raw
Soy Free
Certified Organic by QAI
Why Green Foods?
Green Foods core belief: The best way to nourish our bodies for peak performance is with natural, organic and bioavailable products that provide essential nutrients for optimal health.
Our natural dietary supplements offer the extraordinary nutrients found in fresh grasses, fruits, vegetables, herbs and other nutrient-rich whole foods.
Leveraging our decades of experience and perfected techniques, we harness the best of each ingredients via our own proprietary award-winning juicing and spray-drying process.
For over 40 years, Green Foods has been the world-wide leader in the natural superfoods category.
Our products are sold throughout the world in over 50 countries. Our passion is to spread the benefits of healthy, organic, natural supplements on a global scale, while reinforcing our commitment to respecting our environment and making our customer's overall wellbeing our #1 priority.
Densely nutritious, moringa powder is a fantastic source of numerous vitamins, minerals, antioxidants and amino acids.
Benefits of Moringa
Contains a rare and unique combination of therapeutic phytonutrients
Rich in anti-aging & anti-inflammatory compounds
Helps improve & stabilize your mood
Maintains energy levels & fights fatigue
Aids in improving digestive health
Defends against free radicals
Supports brain health & cognitive function
Promotes healthy glucose & cholesterol levels
Protects the liver against toxicity & damage
Suggested Use
Mix 3.3 g (approx. 1 tsp.) into on 8 oz. glass of water, favorite juice, or smoothie.
Other Ingredients
Organic moringa leaf powder (moringa oleifera).
Does Not Contain: Added sugar, salt, colorings or fillers & is free of animal products, soy, wheat, yeast, corn & genetically modified organisms (GMO).
Warnings
Store: In a cool, dry place with lid tightly closed.
This product is sold by weight not by volume. Some settling of contents may occur.