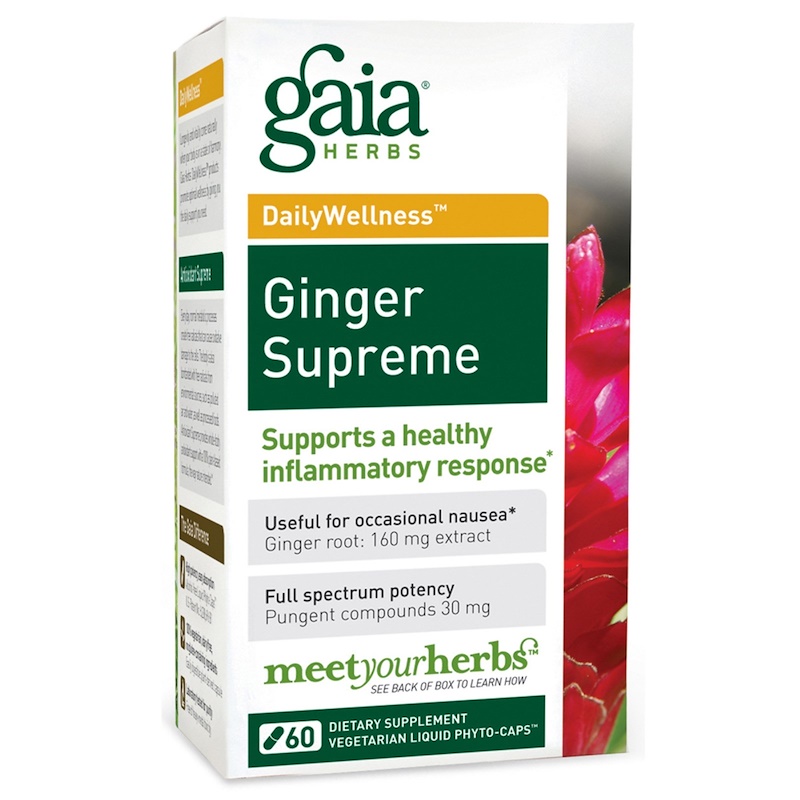 Description
Plant Intelligence
Supports a Healthy Inflammatory Response
Useful for Occasional Nausea – Ginger Root: 160 mg Extract
Full Spectrum Potency – Pungent Compounds 30 mg
Dietary Supplement
DailyWellness
Longevity and vitality come naturally when your body is in a state of harmony. Gaia Herbs' DailyWellness products promote optimal wellness by giving you the daily support you need.
Ginger Supreme
Ginger has a long history of use for promoting healthy digestion, modulating inflammation, supporting heart health, and alleviating nausea. Ginger Supreme uses dual extraction technology to deliver the broadest spectrum of herbal activity: 1. Supercritical CO2 extraction, for fat-soluble constituents; and 2. Alcohol extraction, for water-soluble constituents.
The Gaia Difference
High potency, easy absorption – Alcohol-free Liquid Phyto-Caps
100% vegetarian, dairy free, no gluten-containing ingredients – Easily digestible plant-derived capsule
Laboratory tested for purity – Free of heavy-metal toxicity
Suggested Use
Take 1 capsule 1-2 times daily at meals.
Other Ingredients
Soy lecithin, vegetable glycerin, vegetable cellulose (capsule).
Each 2 capsules contain 2,330 mg dry herb equivalent.
Warnings
Not to be used during pregnancy or lactation. If you have a medical condition or take pharmaceutical drugs please consult with your doctor before using this product. Keep away from children. Use only as directed on label. Safety sealed for your protection. Keep bottle capped at all times and store in a cool dry place. Natural separation may occur. This does not affect product quality.