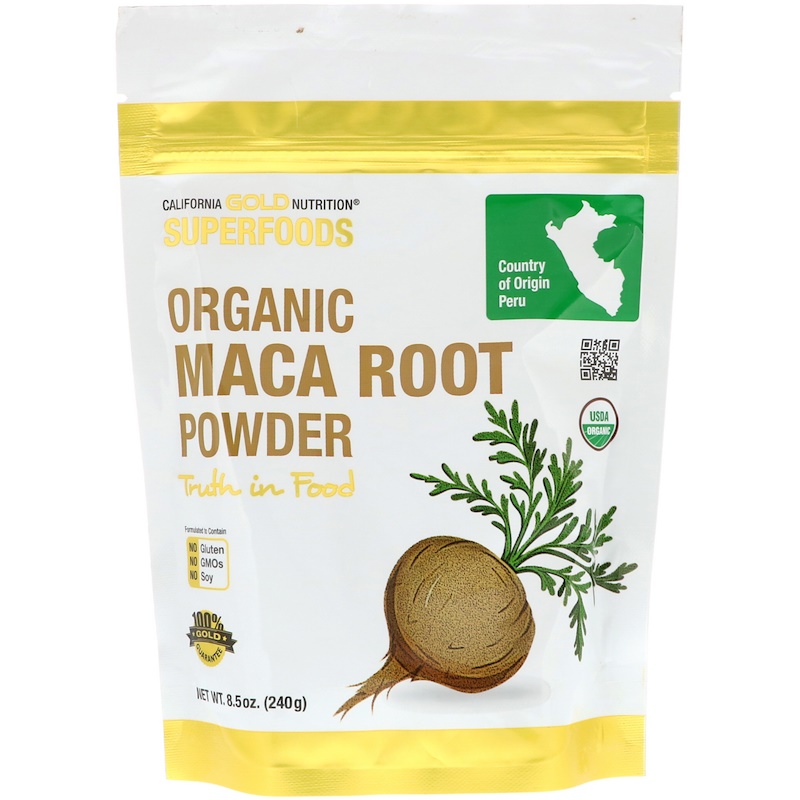 Description
California Gold Nutrition® Superfoods Organic Maca Powder
Sourced from Peru, Manufactured in the USA
USDA Organic, Certified by A Bee Organic
Cultivated from Roots Grown 4000 meters Above Sea Level
Supports Active Healthy Lifestyle & Libido*
Warm, Earthy Butterscotch Aroma & Flavor
8.5 oz (240 g) Powder
Produced in a 3rd Party Audited cGMP Registered (Certified) Facility
Formulated to Contain: No Gluten – No GMOs – No Soy
100% Gold Guarantee
Maca (Lepidium meyenii) Root was once considered sacred by the ancient Peruvian Incas and has been used as a major food source and a traditional remedy for centuries. Both women and men can consume Maca to support a healthy active lifestyle, general well-being and libido.*
California Gold Nutrition® Superfoods Organic Maca Powder is derived from roots grown at 4,000 meters above sea level in the Andean district of Junin, Peru. With a warm earthy butterscotch aroma and flavor, it is a favorite of people looking to supercharge their meal.
Scoop it. Blend it. Sprinkle it. Bake it. It's that simple!
Pairs well with: Banana, Cacao, Cinnamon, Milk (Dairy, Nut, Rice, Etc.), Protein Powders, Sweet Potato
California Gold Nutrition® Superfoods Organic Maca Powder is manufactured in the USA and meets or exceeds all qualitative and quantitative Quality Control specifications: Certificate of Analysis
iHerb Blog Post: The Amazing Properties of Maca
Suggested Use
Use one or more servings daily. Blend with shakes or smoothies. Sprinkle over yogurt or oatmeal. Bake in your favorite recipes.
Once opened, best used within 6 months.
Other Ingredients
Main Ingredients
Organic Maca Root Powder
Other Ingredients
Nothing!
This product is not manufactured with milk, eggs, fish, crustacean shellfish, tree nuts, peanuts, wheat, soy or gluten. Produced in a third-party, audited and registered cGMP complaint facility that may process, other products that contain these allergens or ingredients.
Warnings
Sealed for your protection. Best stored at Controlled Room Temperature (CRT) 20ºC to 25ºC (68ºF to 77ºF). Improper storage conditions, such as extended exposure to direct sunlight, high heat & humidity can cause product degradation over time.
Contains a food-grade moisture absorber to maintain freshness. Do not eat.