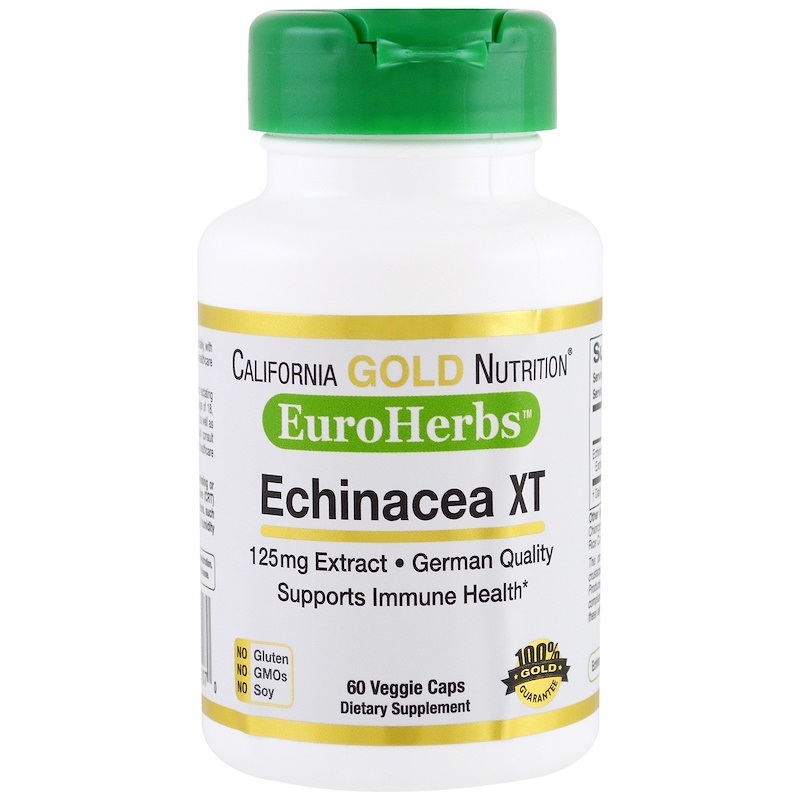 Description
125mg Extract
Echinacea Purpurea Origin (EU) – Processed in Germany
German Quality
Supports Immune Health*
Suitable for Vegetarians
No Gluten
No GMOs
No Soy
A Dietary Supplement
Green Veggie Caps Colored with Chlorophyll
No Artifical Colors
100% Gold Guarantee
EuroHerbs™ is a unique line of premium quality herbals that are sourced and processed from two of the finest European Herbal Manufacturers in the world. Country of Origin and Country of Processing is disclosed for each of our herbal products. Echinacea may help support overall immune health and is a great addition for year round immune support.* Each veggie capsule contains Echinacea purpurea whole herb extract standardized to 4% Total Phenols.
Green Veggie Caps – Naturally colored with Chlorophylln- green pigment found naturally in plants, sourced from alfalfa and mulberry leaves
Suggested Use
Take 1 veggie capsule 1 or more times daily, with or without food. Best when taken as directed by a qualified healthcare professional.
Other Ingredients
Veggie capsule (modified cellulose, chlorophyll [as sodium copper chlorophyllin]), organic rice concentrate.
This product is not manufactured with milk, eggs, fish, crustacean shellfish, tree nuts, peanuts, wheat, soy or gluten. Produced in a third-party, audited and registered cGMP complaint facility that may process other products that contain these allergens or ingredients.
Warnings
Keep out of the reach of children. Pregnant or lactating women, the chronically ill, elderly, individuals under the age of 18, those taking prescription medications (e.g., blood thinners) as well as those with a physician-diagnosed medical condition should consult with a physician, pharmacist, naturopath or other qualified healthcare professional prior to taking dietary supplements.
Sealed for your protection. Do not use if seal is missing or broken. Best stored at Controlled Room Temperature (CRT) 20ºC to 25ºC (68ºF to 77ºF). Improper storage conditions, such as extended exposure to direct sunlight, high heat & humidity can cause product degradation over time.