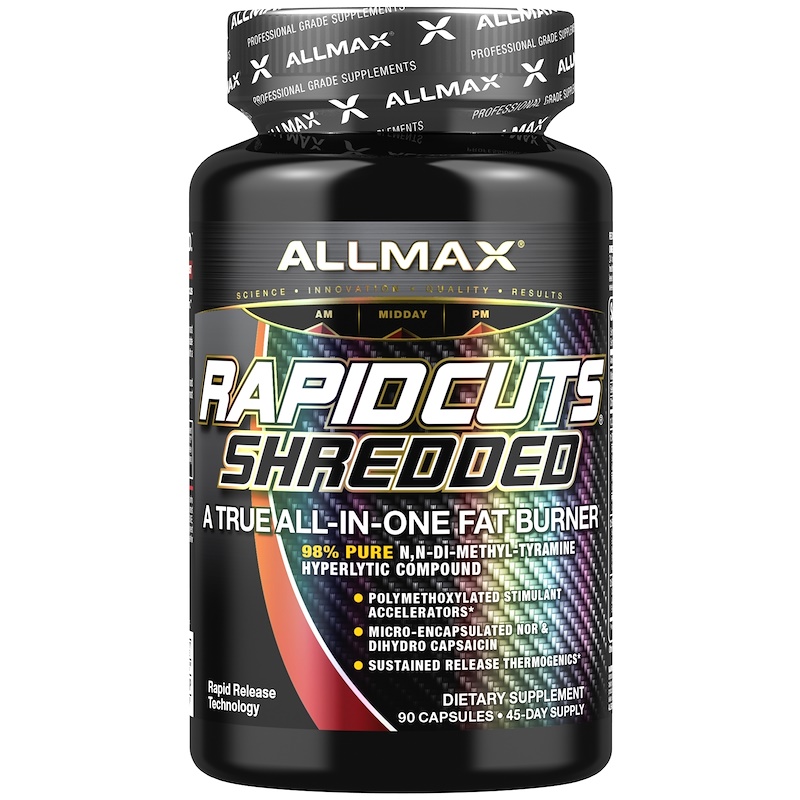 Description
Science • Innovation • Quality • Results
AM / Midday
98% Pure N,N-Di-Methyl-Tyramine Hyperlytic Compound
Polymethoxylated Stimulant Accelerators
Micro-Encapsulated Nor & Dihydro Capsaicin
Sustained Release Thermogenics
Rapid Release Technology
Dietary Supplement
45-Day Supply
Lab Tested – Every Ingredient, Every Lot
cGMP Registered Facility
Gluten Free
Rapid Fat Loss Perfected
Highly Potent – Use with caution. Assess tolerance first.
Rapidcuts Shredded is simply the strongest, most advanced and most comprehensive fat burning product we have ever produced. The science is undeniable and the results are truly impressive. Rapidcuts Shredded was created with a single focus; to create a formula specific to and exclusively for fat loss.
Rapidcuts Shredded is the extreme fat loss formula designed for men and women who are aiming for extreme competition level results. This is the most powerful and effective weight loss formula we have ever brought to market.
Allmax Pro-Competition Series Rapidcuts Shredded is ideal for competitors who demand rapid and effective fat loss. Rapidcuts shredded has been based on the latest cutting-edge science. It provides comprehensive fat loss based on the Target, Release, Ignite system. The Pro-Competition Series of products from AllMax provides the highest level of performance for the highest levels of competition. Rapidcuts Shredded is ideal for 8-week programs and can be effectively integrated into any diet and cardio regimen.
Suggested Use
Recommended purpose: Weight loss supplement.
Take 1 capsule 2 times daily. Take no more than 2 capsules in any 24 hour period. Researchers recommend you stay adequately hydrated, eat a healthy calorie reduced diet and exercise regularly for optimum results. Competition level cardio and dieting are recommended for extreme results. Discontinue use 2 weeks prior to any surgery. For optimum results use for a period of 8 weeks.
Other Ingredients
Gelatin, magnesium stearate, silica, titanium dioxide, FD&C yellow #5, FD&C yellow #6, FD&C red #40, FD&C blue #1.
Allergen Warning: Produced in a facility that handles wheat, soy, milk and shellfish (glucosamine).
100% Clean Label Protocol: Unlike most other supplement on the market today, AllMax shows exactly what's in Rapidcuts Shredded right on the label. Every ingredient and blend is completely spelled out with standardized and patented ingredients.
Warnings
Consult a health care practitioner prior to use: if you have high blood pressure, glaucoma and/or detrusor instability, if you are of childbearing age, pregnant or breastfeeding. if you have diabetes, if you are taking lithium. Consumption with other caffeine-containing products is not recommended, or with natural health products which increase blood pressure is not recommended. This product is not intended as a substitute for sleep. Keep out of reach of children.